Tricycles are considered to be the best tool for getting outdoors, exercising, and going uphill. Indeed, they provide much more stability and comfort than a two-wheeled bicycle.
In this modern age, the addition of technology has made tricycles more outstanding compared to the past. However, they have proved to be a great source of fun and safe traveling. Therefore, if you are searching for a recumbent trike for your use, there are certain things that you need to keep in mind when choosing a tricycle.
There are many types of tricycles available in the market as per according to your choice. One of the types is recumbent trikes, specially designed to give complete back support to the rider.
Recumbent trikes are available in two main types: tadpole tricycle and delta tricycles. In this article, I have discussed which recumbent trike is best according to your needs and preferences.
Tadpole vs Delta Trike – Detailed Comparison
Tadpole Trike
Tadpole tricycles have two wheels in front and 1 in the back. Both these two wheels in tadpole tricycles help to take a better turn, which provides more steadiness.
Tadpole trikes have a lower center of gravity and are also close to the steering axis, resulting in an excellent speed. These trikes are considered to be much faster than delta trikes because they are light in weight.
If you are searching for a trike for speed, braking, and better stability, then you should buy a tadpole tricycle.
Moreover, tadpole trikes are also available in tandem tadpole trikes. Most of the tandem tadpole trikes are manufactured by TerraTrike and are ideal for friends and couples.
Delta Trike
Delta trike is another kind of recumbent trike with one wheel in front and two at the backside of the trike. Delta trikes are not considered suitable for steering and steadiness because the center of gravity in delta trikes is high, and its radius is relatively equal to its length.
However, delta trikes are designed in such a way that allows these trikes to take a sharp turn that is by some means equivalent to 90 degrees. 
Although, delta trikes allow you to ride on rough and bumpy terrain and provide better visibility to the rider. It has been observed that some people prefer delta trikes because they have high speed as compared to tadpole trikes which allow riders to sit on and off of the seat in a comfortable position.
You may also be interested to read about off road tricycle for adults.
Advantages and Disadvantages of Tadpole Tricycles
Following are the pros and cons of a tadpole tricycle which will help you to buy a trike as per your choice.
Tadpole Trikes Advantages
When choosing a tadpole recumbent trike, it is mainly favored by those riders who like stability and speed because these trikes have a lower center of gravity. Therefore, the rider is sitting in a trike instead of a higher position, and when they go fast, they feel more stable, especially while taking sharp turns.
Nevertheless, the wheels at the front of the trike make it easy to resist cornering force during peddling. Thus, these tadpole tricycles can be the best choice if stability and brilliant speed are concerned.
Tadpole Trikes Disadvantages
However, apart from their merits, tadpole trikes also have some demerits. Some people dislike tadpole trikes because they are slightly lower toward the ground, so they may have difficulty getting in and out of them.
Another downside of tadpole recumbent tricycles is that they are harder to see in traffic due to their structure being lower to the ground. Although, many tadpole trikes have higher seats because of people's preferences. These trikes are Greenspeed Magnum, TerraTrike Ramble, and Catrike Villager, or ICE Adventure.
You can also read my detailed guide on right size tricycle for adults.
Advantages & Disadvantages Of Delta Trikes
Delta Trikes Advantages
Delta trikes are perfect for those people who do not have an issue with speed and are more interested only in getting in and out without any hindrance. In some cases, these trikes have a higher turning radius and have more risk of rolling. However, there are also twin freewheeling mechanisms through which the rider can steer easily. In contrast, the steering mechanism in a tadpole trike is a bit more complicated than in a delta trike.
On a rainy day, due to the front and rear fenders on tadpoles, you will be doused with dirty rainwater quickly, whereas you can easily get away in a delta trike. Indeed, health should be the priority of everyone; we sometimes think about where our health will take us in the next five or ten years.
Let's suppose you are suffering from back pain or balance issues; then you should consider the delta trike because it is more accessible than the tadpole trike. One of the exciting features of delta trikes is that they can be linked to each other, which means this can also create a tandem trike. Therefore, it is necessary to consider your mobility because this will affect your future health.
Delta Trikes Disadvantages
However, these trikes are not suitable when it comes to speed. Therefore, you can only take advantage of this trike when driving at a moderate pace is your preference, or else there are chances of flipping the trike. In addition, delta trikes seem to be slightly higher SUVs so they might flip over on sudden or sharp turns.
Things To Consider When Choosing a Delta OR Tadpole Trike
It is crucial to make sure which model is perfect for you. It might be possible that you may find difficulty during turning, or maybe you feel too low or high to the ground. Therefore, it is necessary to ensure you get in and out without problems. It is recommended to test ride on several models that are perfect for you.
However, if you are planning to go outside of your area, you need to load your trike on your vehicle and make sure that it should easily be lifted. Although delta trikes are difficult to transport because they have an extended wheelbase.
Final Thoughts on Delta vs Tadpole Trike Comparison
Without a doubt, there is no best design when choosing tadpole vs. delta trikes. Therefore, it depends on your needs, preferences, and intended use. Both designs offer the best features, whether for increased mobility or fun purposes.
However, most people like tadpole trikes because they are sporty and light in weight. Shopkeepers also reported they don't carry delta trikes in their stock because people usually buy delta trikes less than tadpole trikes. Thus, both trikes are best suited according to their features.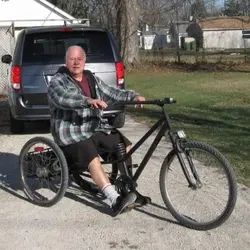 Hi, My name is Ruth Winder, founder of Tricycle Hub. I am a salesman by profession and cycling enthusiast by passion. I have been riding trikes for more than 5 years. On TricycleHub, I share everything related to tricycles and other gadgets I use for daily commuting and other outdoor activities on tricycles.
Learn About Me to know how and why I switched from bicycling to tricycling.