The trend of using recumbent trikes is increasing day by day. Some people who go to the office generally prefer a bike so they can reach on time. For example, if you are going to the office, you are obviously in a rush, so you definitely prefer an upright bike, but when you use the bike for a longer duration. You will likely get back and knee pain, which will affect your health.
Linda is a professional chef and has used a bike for about ten years. She started facing back as well as knee pain at the age of 30, which increased day by day. Last month, I recommended a recumbent trike which will not only support her back but she will no longer have to paddle much harder. Linda acted upon the advice and saw the difference that her back and knee pain was no more.
Below I have shared a detailed comparison of recumbent trike vs bike to help you choose the best option according to your needs.
Recumbent Trike vs Bike – Detailed Comparison
A recumbent trike is a perfect solution for those people who suffer from back or knee joint pain. It depends because some people prefer a bike or a recumbent trike. For instance, you love the recumbent trike because of the comfort associated with it.
However, it might be possible your friend may not share the same idea. In fact, a recumbent trike is much more common in senior people. In this article, I have highlighted major reasons to help you choose between a recumbent trike or a bike. You can also read about recumbent trike types i.e. Tadpole and Delta Trike.
Reasons for Choosing a Recumbent Trike or a Bike
1. Recumbent Trike or Bike for Short Distance
Suppose you are suffering from back pain and want to go to a mart or nearby places. Definitely, you can use a recumbent trike for this problem. You can easily enjoy the ride because a recumbent bike will support your back, and you can easily enjoy your ride without the fear of increased back pain.
On the other hand, bikes have upright saddles, which increase the chances of back pain. Therefore, bikes are not recommended for those who have back pain. You can also have a look best folding tricycles for adults.
2. In terms of Safety
The additional wheel in the recumbent trike adds more stability, which makes the ride safer. You definitely will not fall from a recumbent trike because of the additional wheel.
Meanwhile, you can enjoy your ride without the fear of falling down. I am not saying that a two-wheel bike is a bad option, but there are chances of falling down compared to a recumbent trike.
Generally, in a bike, the pedals are near the seat, which makes the position a bit challenging while maintaining the balance. However, in a recumbent trike, there is no issue of balancing, and you can smoothly cover your journey.
Results have found that a recumbent trike provides more safety than a bike. For instance, a reversing vehicle may not be aware of your presence. You can swiftly save yourself before the accident. Although, you cannot be that fast enough as compared to a bike because of the balancing issue.
3. Steering System
The recumbent trike steering system is very innovative and provides smooth as well as safe turning. The steering of a recumbent trike requires less energy to move. When you steer, it gives you more stability because it turns the wheel better than a bike.
Also, it provides a good turn radius when you are on a single lane or on a bike path. Thus, in a bike, we do not have that safe turning.
4. Better Workout
Recumbent trikes are not used only for outdoor purposes, but they can also be used for a cardiovascular workout in order to burn calories in the form of pedaling. Regular riding on a trike can be very beneficial. Using a recumbent trike is considered an aerobic activity, meaning the heart rates go upward and downward for at least twenty minutes.
Indeed, it is considered to be a great way to enhance stamina and build strength. A recumbent trike does not put so much stress on knee joints and back. Whereas on a bike, it is a bit difficult because the seat is in an upward position.
There are chances of getting back and joint pain. Therefore, in a recumbent trike, you can do it in a more enjoyable way. A study conducted in 2017 suggests that those who pedal to their work experience have significant benefits on their heart health. So, by using a recumbent trike, you can easily do your outing and also do your exercise better than a bike.
5. Ergonomic Design
A recumbent trike has an ergonomic structure that makes the trike very easy to move, use, and control. It is designed for all types of users, from kids to adults. However, the rider's weight is distributed over more square feet of the buttocks and the back, which makes the rider more content than a bike.
Whereas, in a bike, the rider's weight is all focused on only a few square inches. People with cerebral palsy, autism and Down syndrome can efficiently operate these vehicles for best operations. A bike is not designed in such a way that it takes care of these medical conditions. Hence, making a recumbent bike better than a bike.
6. Optimum Stability
Without a doubt, recumbent trikes provide more stability than a bike because of the low height and two rear wheels, which make the recumbent trikes more stable. That is why recumbent trikes are preferable to upright bikes.
You can also read a detailed comparison of Tricycle vs Bicycle for Adults
Concluding Recumbent Bike vs Trike Comparison
Recumbent trikes are considered to be much better than traditional bikes because of the comfort and preference of the people. They provide more safety as well as stability. Most people who go to work have less time; they undoubtedly prefer a bike to a recumbent trike because it travels much faster and saves time.
Furthermore, trikes are designed in a way that provides more relaxation to the users. They don't feel back and knee pain. People can use it to visit a mart, bakery, or nearby places. These reasons make recumbent bikes much better than a bike.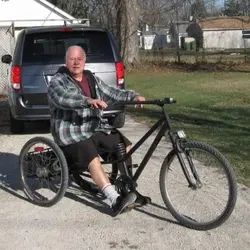 Hi, My name is Ruth Winder, founder of Tricycle Hub. I am a salesman by profession and cycling enthusiast by passion. I have been riding trikes for more than 5 years. On TricycleHub, I share everything related to tricycles and other gadgets I use for daily commuting and other outdoor activities on tricycles.
Learn About Me to know how and why I switched from bicycling to tricycling.