When we think about tricycles, it often brings up memories of our childhood of racing down in parks or our backyard. Nowadays, tricycles are commonly known as trikes and are very popular for recreation, transport and exercise all over the globe.
However, adult tricycles are now becoming much more popular than ever before. For adults, a tricycle provides more comfort and stability, which they cannot find in a two-wheeled bicycle that much. Therefore, adult tricycles also offer better back support and can also be able to lift the heavy load.
Many teens also love to ride a tricycle because they can carry their heavy school bags and groceries in the basket rather than putting additional weight on their shoulders.
History Of Tricycles – 1700s till date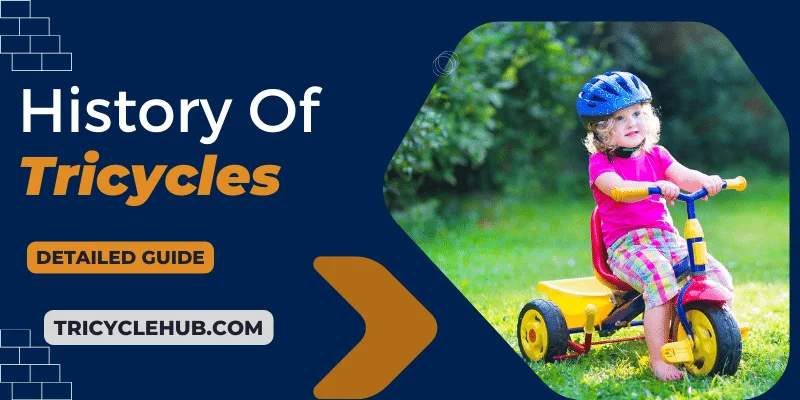 A few questions come to our mind when we think about the history of the tricycle. We sometimes think about when the tricycle was invented in 1800 or 1900, but the history of the tricycle is not as new as it seems to us!
In this article, we will try to give significant information related to tricycle history, when the tricycle was invented and who made the first tricycle.
When was the first tricycle invented?
The first tricycle was built for a German watchmaker, Stephan Farffler, in 1680. He had leg paralysis, which made him unable to walk with difficulty. However, the tricycle invented for him had hand cranks and gears, which helped him ride easily on a tricycle.
Later in 1789, two Frenchmen named Maguire and Blanchard invented a tricycle, which was also published on 27th July in a Journal de Paris, which explained and differentiated bicycle and a tricycle.
Coventry Lever Tricycle in 1876
James Starley invented the Coventry lever tricycle on 18th November 1876. Gradually, the new type of tricycle became popular in England. Therefore, the tricycle had small wheels, which were located both on the right side, and steered at the same time. James also introduced the first rotary chain dive trike in 1877.
Multi-wheel or Improved Tricycles in 1879
Twenty other types of tricycles were also introduced in 1879 in England. Later by 1884, 20 different manufacturers produced 120 different models of tricycles. Furthermore, tricycles were mainly used by those who couldn't ride on high-wheelers at that time.
Significantly, they were used by women because they wore long dresses, which made it difficult for them to ride. However, these types of tricycles were also used by short-height men.
First Generation Tricycles (1876-1884)
The tricycles that were invented between the time periods from 1876 to 1884 are considered to be the first generation tricycles. Starley Rotary tricycle is the famous one. These tricycles became a variety of attractions for people. Meanwhile, there were also two track tricycles which were specially designed to operate on uneven double-track roads. You can also read about best folding tricycles.
Second Generation Tricycles (1885-1891)
The second generation of tricycles had come in 1885 and these were mainly used for racing purposes. Therefore, these tricycles had two rear wheels and a front wheel, splitting their track. The front wheels were about 18 to 24 inches and the rear wheels were nearly 40 inches.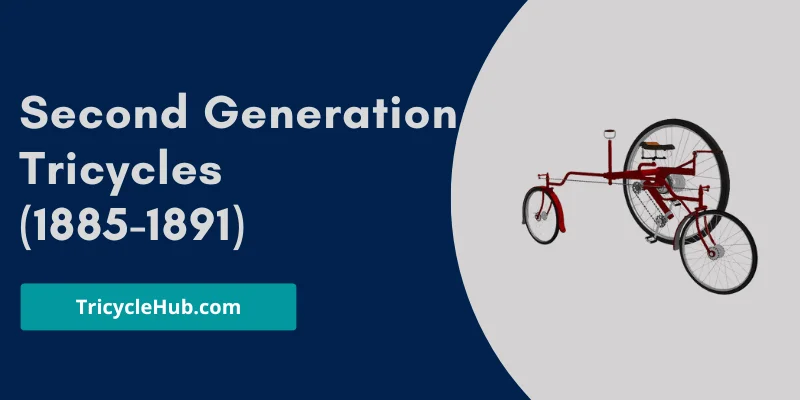 However, the wheelbase of these tricycles was about 32 inches, and they weighed about 75 pounds in total. These tricycles gained popularity, and people preferred to buy these types of tricycles.
Third Generation Tricycles (1892-1900)
The third generation of tricycles was much similar to the present time of tricycles. Those tricycles were known as Starley Brothers Psycho, with a wheel size of about 28 inches. Also have a look at tricycle size chart.
However, in 1900 Pneumatic Safety Bicycles took place in the market when tricycle safety became the main concern, which proved to be a tough competitor for tricycles. These new bicycles provide much more stability for most of their riders. However, tricycles did not evolve much in the 19th century like the way bicycles evolved due to the addition of modern bicycle components.
Decline of Tricycles Demand History
Bicycles were easy to ride, whereas tricycles were only considered a mode of transportation for the working class. Therefore, bicycles were also good at racing and provided much more speed compared to tricycles.
Throughout Europe, the popularity of tricycles declined day by day in the 1900s, and only a few manufacturers were left in England who were manufacturing tricycles.
Comeback of Tricycles
The tricycle made a remarkable comeback in the coming years, mainly in New Zealand, the United States, and Australia. Therefore, adult electric trikes gained popularity among older adults and those who are disabled.
Whereas previous tricycles did not have a basket to carry goods. However, modern tricycles have a small basket at the front and a large basket at the back of the seat, which proved to be ideal for groceries and other household items. Tricycles also gained popularity, especially among teens, in a fun way because they can carry a surfboard at the back of the tricycle.
Final Remarks about Tricycles History
Without a doubt, the history of tricycles is quite enriched with evolutions and modifications. However, their inventions have evolved much better than in the past. Initially, the frames of tricycles were made from wood, and now they are made with a metal body.
Tricycles are preferred for recreation, exercise, and for transportation. Even if it takes your monthly or weekly shopping or a comforting pedal down to your local store.
However, many types of tricycles are available depending on your weight and comfort zone. Once you go abroad, you will see that people have been using tricycles and bicycles for centuries. However, tricycles had a massive impact on society, which took public attention in Britain and the whole world.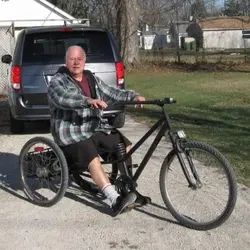 Hi, My name is Ruth Winder, founder of Tricycle Hub. I am a salesman by profession and cycling enthusiast by passion. I have been riding trikes for more than 5 years. On TricycleHub, I share everything related to tricycles and other gadgets I use for daily commuting and other outdoor activities on tricycles.
Learn About Me to know how and why I switched from bicycling to tricycling.