Carrying groceries, essentials, and belongings is impossible on a tricycle without a good quality basket. That's why I always bought the tricycle with a basket to fill the gap and make three-wheelers practically more beneficial for daily commuting.
You can bring and cart plenty of stuff depending on the carrying capacity of the basket and its stability, so apparently, there are multiple features based on which you can judge an adult tricycle and its basket. The market is saturated with an abundance of options; each calling itself the best, but to decide better and something reliable, doing homework is a must.
If you're running out of time, this article will be fruitful for you because I have gathered the topmost adults tricycles with baskets that feature multiple speed options, color choices, and more. By the end of this blog, I have also shared a few baskets that you can add to traditional bikes.
Best Tricycles with Basket for Adults Overview
Top 4 Best Tricycles with Basket for Adults Review
1. Schwinn Adult Tricycle with Basket
Specifications
No Of Speed: 1
Wheel Size: 26 Inches
Frame Material: Aluminum
Weight:

74 lbs.

Load Capacity:

300 lbs.
Schwinn ranks on top in the list of best trikes for adults for its low-step design that contributes to enhanced stability and better coordination. The body of this tricycle is made of aluminum, a super lightweight, portable, weatherproof, rustproof, and long-lasting metal.
When it comes to bikes, the metallic construction is preferred for its robustness and withstanding nature against external impact factors as bikes are exposed to environmental changes.
Speed is an important parameter when discussing cycles. Likewise, the Schwinn features a single-speed option only, which has both merits and demerits. The advantage is that single-speed functioning is easy to understand, beginner friendly, and has no risks, while it restricts you from multiple gears which is a drawback. Shortly, this is how the Schwinn is designed, so it's up to you whether you're feasible with one speed or not.
If I had to define Schwinn in one word, it would be "ergonomic", which means performance without compromising comfort. This bike comes with adjustable handlebars; you can set the handlebar length as your choice from 37 to 40 inches. As Schwinn is a tricycle, it is super stable and allows you to carry essentials as this trike has a roomy basket as well. So, what else are you looking for?
What I Like?
Foldable basket
Wide handlebars
Low maintenance cycle
What I Didn't Like?
Assembly is a bit difficult
Why I Recommended Schwinn Adult Tricycle
In conclusion, I must say Schwinn has no competitor apparently for its endless comfort and stability. If you find riding a bicycle troubling, there is no better choice than the Schwinn trike for adults which features a carrying basket, a single-speed option, a basic interface, an aluminum frame, and an adjustable handlebar. Read a detailed comparison of bicycle vs tricycle for adults.
2. Slsy Adult Tricycle with Basket
Specifications
No Of Speed: 7
Wheel Size: 24 Inches
Frame Material: Steel
Weight:

55

lbs.

Load Capacity:

350 lbs.
Slsy adult trike is another striking option in today's market for all-level users. The suitability based on your expertise like beginner, intermediate, or professional is not a deal anymore with Slsy tricycle.
It is perfect for everybody who wants to ride in the streets, do grocery, commute to school, roam around parks, or more.
The thing you need to consider when buying a Slsy cycle is size as it is available in multiple variants based on the size of the wheel. For your information about what size tricycle do you need, size is picked according to your own height like if you're four to five feet tall, a twenty-four inch wheel will be suitable, while riders who are above five or six feet tall should choose twenty-six inches wheel size. Please check the guide provided by the manufacturer for further assistance.
The Slsy tike also features metal construction; it is made of treated steel that stands out for increased resistance against exterior impact-causing factors. The design is overall user-friendly and aimed at providing stable and consistent rides to commuters.
The Slsy tricycle weighs no more than 55 lbs.; that's why it is counted as one of the most portable and lightweight options out there. Additionally, the Slsy has a room base that can load up your supplies and essentials easily and be a perfect fit for your regular chores.
What I Like?
Arrived on time
Sturdy bike
Available in many colors
What I Didn't Like?
Instruction manual is not good
Why I Recommended Slsy Adult Tricycle
The Slsy trike, in a nutshell, is perfect for casual or regular use for its elevated durability, vast size basket for carrying your stuff, and lightweight body. It is practically designed for all users regardless of their experience. You may also want to read about how to convert tricycle to electric.
3. Viribus Adult Tricycle with Basket
Specifications
No Of Speed: 7
Wheel Size: 24 Inches
Frame Material: Carbon Steel
Weight:

65

lbs.

Load Capacity:

4

5

0 lbs.
The Viribus adult tricycle is the perfect fit if you're looking for multiple-speed options. Gears help you ride better and make the trike versatile, as you can commute through streets, rush places, highways, or wherever you want to when the speed of your bike is in your control.
That's why most riders, especially professionals, prefer more than a one-speed option. Believe me or not, the Viribus tricycle features seven different speed options which make it stand out in the market.
Not only that, the Viribus tricycle also has variants based on the wheel size: 24 inches and 26 inches. Many of you might think that two inches will not go to make any difference, but that's not right. You have to pick the wheel size that suits your height; otherwise, you'll be in trouble. As a rough guide, remember the "five feet rule"—if you're less than five feet, 24 inches wheel size is better for you; otherwise, if you're more than five feet, go for 26 inches.
The Viribus adult trike follows the composite construction as it is made of carbon and steel material, where carbon is added to cut down the extra weight and steel promotes resistance and durability. All-in-all, considering the build quality and material choice, the Viribus is not a compromise
Over that, the spacious and roomy basket is also included in this trike to make mini picnics, grocery stops, and supplies commutation effortless.
What I Like?
Balanced cycle
Spacious design
Safe to ride
Why I Recommended Viribus Adult Tricycle
Shortly, the Viribus has a solid carbon steel frame that is molded to give this trike a low-step design. It comes in variants based on wheel size and offers plenty of speed options to riders. Practically, the Viribus tricycle is a winner for its versatility.
4. MOPHOTO Adult Trike with Basket
Specifications
No Of Speed: 7
Wheel Size: 20 Inches
Frame Material: Steel
Weight:

6

7 lbs.

Load Capacity:

350 lbs.
MOPHOTO adult tricycle might not be a popular choice in today's market but it will amaze you with its effortless, smooth, stable, and reliable performance. This is a modern trike that comes in a foldable design; yes, you read it right; this cycle gets folded when not in use and becomes super compact. Read more about best folding tricycles for adults.
You can place it easily in your car's trunk, backyard, cabinets, or wherever you want to. It would be right to say that MOPHOTO is the most easygoing option when it comes to portability or handling.
If you're a beginner and looking for something quick and easy to deal with, the MOPHOTO is highly recommended. This is because the MOPHOTO trike comes as a package that includes all the tools and an instruction manual that will help you assemble the cycle like a pro. There is no need to seek help from mechanical experts or surf on browsers as this tricycle will come with all the essentials.
Like other trikes, it also has two wheel sizes: 24 inches and 26 inches, and I think you have already learned how to choose the wheel size. Please make sure to find the suitable one as it matters a lot.
Aside from that, the MOPHOTO tricycle also offers 7 speed options and is made of heavy duty steel that will bring uniformness to the rides and makes it one of the best tricycle for heavy adults. Another reason why MOPHOTO is part of this list is the large rear basket attached to it; so you see, it is a complete package that will give you ease of riding.
What I Like?
Long-lasting cycle
Large basket
Best for daily use
Why I Recommended MOPHOTO Adult Tricycle
In a few words, the MOPHOTO tricycle is an easy-to-assemble, versatile, and straightforward option in today's market. The major reason why this cycle stands out in the market is its foldable design.
You may also be interested to read about history of tricycle
Best Adult Tricycle Baskets Overview
In case you already have a tricycle then instead of buying a tricycle with a basket, go for a tricycle basket. It will be a much more affordable option for you to choose from. Below I have mentioned some of the best baskets for adult tricycles.
3 Best Adult Tricycle Baskets Review
1. Wald 1275 Tricycle Basket
Specifications
Not flimsy
Stable basket
Goes best with a tricycle
Beginner-friendly
Wald tricycle basket is a well-welded product that is made of high-quality steel. In comparison to other materials, metal has its own class for maximum strength and durability.
Not only that, but the basket is also further coated with plastic to make it waterproof because metals are prone to corrosion.
In appearance, the basket looks pretty basic; it is not available in any colors, which is a downside. So, if you're interested in a steel basket with no fancy looks, the Wald is the best fit for you. You can also use it for multiple purposes as it is a detachable thing that mounts on a bicycle, or tricycle, or could be used as a basket in your kitchen or backyard.
When buying baskets for tricycles, please consider the stability. Likewise, the Wald basket is not a flimsy option; it won't wobble at all—thanks to the strong construction. Also, mounting the Wald basket is super easy; there is no need to use fancy tools or equipment.
What I Like?
Multifunctional
Basic and handy
No hardware
Why I Recommended Wald 1275 Tricycle Basket
In short, the Wald basket is the best option to add to your basketless tricycle. It gets installed in no more than minutes, looks decent on all bikes, can be used for other purposes, and fulfills the demands.
2. Retrospec Front Trike Basket
Specifications
Metallic basket
Colorful choices
Detachable
Decent appearance
The Retrospec trike basket is another striking option in today's market that comes in multiple color choices. You can choose one that suits your cycle or pick your favorite color.
Appearance-wise, the Retrospec basket looks great and fulfills the needs related to carrying or commuting stuff.
The Retrospec is another metal-built basket that is composed of alloy steel material that features excellent strength and resistance. It is a weatherproof basket, making it a versatile and long-lasting option. completely, it would be right to say that Retrospec is a durable and reliable option in the market.
Mounting the Retrospec basket is not a big deal; it gets installed using integrated hooks on the handlebar of your trike. The ready-to-use option on the list will make your life super easy. This front trike basket is easily detachable too and could be used for other applications; you can also carry the stuff to your home, garden, kitchen, etc., using this.
What I Like?
Lightweight and handy
Gets mount easily
Wide compatibility
What I Didn't Like?
The price fluctuates with colors
Why I Recommended Retrospec Front Bike Basket
In a word, the Retrospec stands out for its lightweight body, charming appearance, handlebar mounting style, and steel construction. This weatherproof and long-lasting trike basket will make your life effortless and reliable.
3. ProsourceFit Wicker Trike Basket
Specifications
Looks natural and hand-woven
Tight and durable
Weatherproof
Lightweight
Last but not the least, we have a ProsourceFit trike basket that will catch your attention by its appearance. It is tightly woven with the wicker material and comes in natural wicker color with no artificial paints.
For your information, the wicker is old material used for making furniture like chairs, tables, etc. for backyards as it looks pretty real and aesthetic.
Apart from appearance, the ProsourceFit basket is also a durable choice; however, not as strong as metal. It might get torn on rough use, so please handle this wicker basket with care. Though it is tightly woven and has the good carrying capacity to keep your belongings or essentials secure. Also, it is waterproof, dustproof, and resistant to weather changes.
The thing that makes the ProsourceFit basket stand out in the market is its super lightweight, which is a point of concern. This is because a heavy basket disturbs the balance as you mount it over the handlebar. Thus, a lightweight basket like ProsourceFit is preferred to keep the front of the bike in place and easily handleable.
What I Like?
Wicker
Super light
Weather resistant
Why I Recommended ProsourceFit Wicker Trike Basket
The ProsourceFit basket is indeed the best option if you consider weight. There are other reasons to like appearance, resistance, handling ease, etc., that will convince you to buy this wicker basket.
Frequently Asked Questions
What is a tricycle for adults called?
Adult tricycles, adult bikes, or adult trikes. These are the three-wheeled adaptive cycles that are designed to add better balance, stability, and coordination. If you suffer from riding a two-wheeler, switching to a trike will help a lot.
How do I choose a tricycle?
Build quality, speed, accessories, color or appearance, price, and brand are the primary features that demand your prior consideration. It is suggested to go for metal trikes that boast multiple speed options, and don't forget to read reviews and ratings to make a worthwhile purchase.
What are the disadvantages of a tricycle?
Perks aside, there are some demerits of trikes too like storage, visibility, maintenance, and more. At the start, you might find a tricycle unwieldy and a bit more complex than a traditional bicycle but with the passage of time, you'll have an improved stability and coordination rate.
Final Thoughts about Tricycles with Baskets Review
The adult tricycle with the basket is synonymous with ease of carrying and transporting usual stuff like groceries, belongings, and essentials. In this blog, I have added my favorite trikes with baskets along with separate shopping baskets that will get mounted to your traditional cycles.
Reading the full article is highly encouraged for your better understanding, but if you're running short on time, here is the summary:
That's all for the best tricycle with a basket for adults but in case you already have a tricycle then instead of buying a tricycle with a basket, go for a separate tricycle basket. These individual baskets get mounted on the handlebar of the trike easily and facilitate your wide vast carrying space to keep your belongings secure.
Among all, here is my favorite choice:
In conclusion, buying the basket trike will make regular commutation effortless. Regardless of whether you're going to the gym, park, grocery store, shopping, or more, you can place all belongings in the carrying basket and travel in peace. That's all for today's blog, see you in the next article!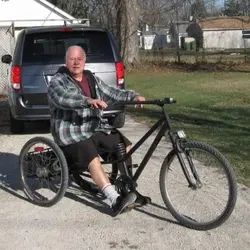 Hi, My name is Ruth Winder, founder of Tricycle Hub. I am a salesman by profession and cycling enthusiast by passion. I have been riding trikes for more than 5 years. On TricycleHub, I share everything related to tricycles and other gadgets I use for daily commuting and other outdoor activities on tricycles.
Learn About Me to know how and why I switched from bicycling to tricycling.