An adult tricycle is also known a "trike" or "three-wheel cycle." An additional wheel helps you maintain the balance of the tricycle and allows you to carry groceries or luggage in the basket. There is no chance of any misadventure while riding a trike because three wheels maintain the proper balance in all directions. Plus, the three wheel cycle is strong and durable enough to climb hills and run on unpaved roads.
Moreover, if you do not know how to ride a two-wheel bike, you can use a trike because it is easier to learn than a bicycle. Trikes are also suitable for physically challenged and older people. An adult trike is slightly different from children's tricycles; it has multiple features like shocks, hydraulic brakes, an intelligent controller, 7 speeds, and so on. Finding a perfect adult tricycle is challenging, but here I have collected the 8 best adult tricycles for you.
Best Adult Tricycles Overview
8 Best Adult Tricycles Review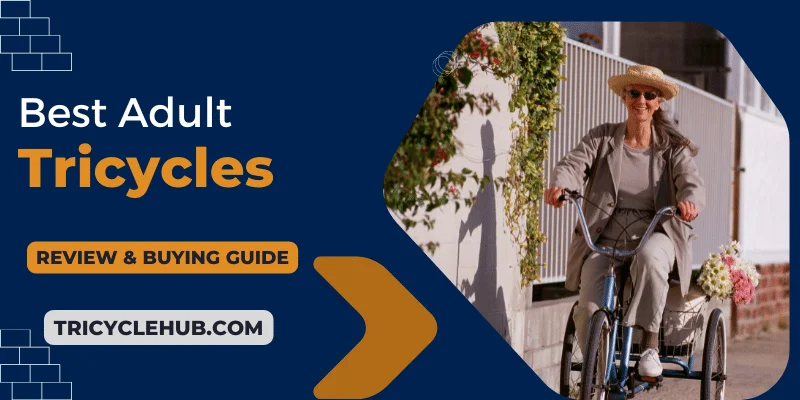 I have gathered all kinds of trikes, from pedaling to hybrid and electric trikes. These 8 adult tricycles are not only reliable but also tested multiple times. I looked at all the factors like material, wheel size, saddle adjustability, battery duration, motor, and so on.
Additionally, at the end of the article, I mentioned a brief buyer's guide for purchasing a quality product. I can show you the paths, but you have to choose the suitable way for you. Let's start with an appealing product.
1. Schwinn Meridian Adult Tricycle
Specifications
Weight: 74 lbs.
Weight Capacity: 300 lbs.
Upright cycling position
Aluminum frame low step style
Unisex
Large saddle
Schwinn is the most famous tricycle brand and has been selling tricycles for 125 years. My first recommendation is the Schwinn Meridian adult tricycle.
There are so many reasons to select it as the first recommendation, for example, the cushioning large and wide saddle. The saddle has multiple cushioning pads to provide relief when you sit on the trike.
Tall and short people often face difficulty while sitting and pedaling the bike. But this tricycle can eliminate all of your worries because it has a customization saddle height feature.
Plus, the low-step style frame also allows you to get on and off the tricycle effortlessly. The average life of a tricycle frame is about 4 to 6 years, but this trike has a top-quality aluminum frame with 10 to 15 years of service life.
Schwinn Meridian tricycle has a 250 to 300 lbs. weight capacity as well as suitable for 5.4 to 6.2 feet people which makes it suitable tricycle for plus size adults. This tricycle has a wire-made basket to carry the groceries, or you can also put books or bags for cargo. Moreover, if you want to remove the tricycle basket, you detach and fold it.
The tricycle has 26-inch wheels with a wide position. In simple words, it is simple to control the trike. If you are looking for a tricycle with strong brakes, then this item is made for you. In case of any misadventure, you can use the front alloy linear brakes. The front brake stops the cycle within seconds, and the rear expander brake maintains the balance.
If you are fond of tricycles, then you must know that long-lasting paint is a significant part of the trike. Low-quality paints cannot stand against pollution and water but this adult tricycle has a strong paint skin on the frame to fight all the external variables. Further, this three wheel bike has front and rear fenders to stop dirt and dust. The swept-back handle design helps you to keep the correct body posture.
What I Like?
Lightweight
Strong frame
Quick brake response
Why I Recommended Schwinn Meridian Adult Tricycle
Schwinn Meridian Adult Tricycle has a fascinating design and adorable features. It has versatile tires to run on paved or rough and beaten roads. The flexible body of the cycle absorbs all the bumps and provides you with a smooth ride. I included this trike in my 8 best adult tricycles because it provides all the great features.
2. Slsy 7 Speed Adult Tricycle
Specifications
Weight: 55 lbs.
Weight Capacity: 350 lbs.
Advanced parking brakes
7 numbers of speed
Saddle backrest
My second recommendation is the Slsy adult tricycle 7 speed, known for its advanced features. This cycle is also known as a super-fast tricycle because it has 7 speeds. The cycle has a handle shifter; you can change the gear by tapping on the shifter.
This adult tricycle also has advanced parking brakes which quickly stop the trike without shocks. Most tricycles are required to change the brakes every 3 months if you're using it regularly, but this trike has durable brakes.
The wide paddles of the tricycle grip your feet properly. Moreover, the large saddle offers you to sit for a long time without bone fatigue. Because this saddle possesses special cushioning pads to provide maximum depth. You can also adjust the height and direction of the saddle. Plus, rear suspensions absorb thumps and bumps. This off road tricycle has double-layer tires to run off-road and unpaved tracks. The tires are pretty strong, with robust double-wall rims.
Riders often complain about the pain in the back being the real obstacle, but this tricycle has a backrest. The design of the tricycle, saddle, and backrest allows not only smooth rides but also aligns other parts of your body. Plus, Slsy adult tricycle has a bottle cage, so you can take the water bottle anywhere. The tricycle also has a big wire basket and 350 lbs. weight capacity.
The Slsy adult tricycle 7-speed is available in three-wheel sizes. The first 20-inch wheels are for 4.8 to 5.4 feet people, the second 24-inch wheels are made for 4.11 to 5.9 feet people, and the last 26-inch wheels are for 5.3 to 6.2 feet people. You can read a detailed guide on what size tricycle do you need!
This tricycle is also available in different colors. When it comes to painting, no trike can compete with it. It has a protective paint finish to prevent the sun color fade effects. The glossy paint not only shines brighter but is also easy to clean. All you need is to clean the tricycle with a dry piece of cloth.
What I Like?
Easy to assemble
Foldable basket
Wide pedals
What I Didn't Like?
Tire tubes exploit at 40 lbs. pressure
Why I Recommended Slsy Adult Tricycle
If you want a durable adult trike made of robust material, then you should select this tricycle. The Slsy adult tricycle is made of steel. Plus, it comes with an assembly manual. The tricycle takes 10 to 15 minutes to assemble. From durable tires to a perfect handlebar style and glossy paint to innovative gear shifters, this tricycle proves that it is the best adult tricycle. By the way, do you know that you can also convert a manual tricycle to electric tricycle?
3. DWMEIGI Adult Tricycle
Specifications
Weight: 99 lbs.
Weight Capacity: 300 lbs.
Front and rear LED lights
13 Ah battery
15 mph speed
My third recommendation is DWMEIGI Adult Electric Tricycle with 15 mph speed. This tricycle has 7 speeds, and you can also turn on paddling mode. Let's put it simply, if the battery of the tricycle is getting low, you can turn off electric mode and run it on the paddle option.
Plus, you can accelerate the speed by changing the gear. If you are worried about the tires, then you should know that these tires are able to pass on anything that comes their way.
The tricycle has a 350 watts motor that can produce 40nm torque. The motor helps the trike to run up to 15 mph speed. Plus, the cycle has two modes: electric trike mode and assisted mode. In the electric trike mode, you do not need to pedal the tricycle to run, and you can go 25 miles; in the assisted mode, you are required to pedal the tricycle, and it can go 35 miles. This cycle has a 13 Ah fast-charge lithium-ion battery which fully charges in 4 to 5 hours approximately.
This tricycle has a list of appealing features like its quick response brakes, front-back fenders, and chain cover. Fenders protect you and your cycle from mud, dirt, and water plus the chain cover prevents oil from coming out of it.
A portable wire basket helps you to carry a large number of goods. If you are curious about the load capacity, you should know that this adult tricycle has 300 lbs. weight capacity. The 24-inch wheels offer 5.4 to 6.2 feet people enjoy the ride. Moreover, you can upgrade the wheels.
Now, nothing can stop you because this tricycle has a waterproof saddle and front-rear LED lights. The oversized saddle has springs and cushions to provide you with a comfy experience. As well as the front LED light is also for traveling in the dark, and the rear light prevents accidents.
Additionally, this tricycle has a smart key display for changing the mode, gears and informs about speed. The display also shows you the battery levels and indicates in case of low battery.
What I Like?
Anti-skid tires
High torque motor
5-level battery indicator
Why I Recommended DWMEIGI Adult Tricycle
This is a revolutionary tricycle that can change the way you experience life. DWMEIGI Adult Electric Tricycle has a long-duration battery and can lift heavyweight. This tricycle has all the advanced features like parking brakes, a smart key display, two running modes, head and back LED lights, and so on. All of these features are evidence that this item is one of the best 8 adult tricycles. You may also be interested to read about best recumbent trikes.
4. Viribus 3 Wheel Adult Tricycle
Specifications
Weight: 70 lbs.
Weight Capacity: 265 lbs.
Removable battery
10 Ah battery
3 riding mode
My fourth pickup is a Viribus 3 Wheel electric bike known for its durable material. The frame of this tricycle is made of carbon steel, a powerful material. The frame can lift 265 lbs load. You can carry goods in the wire basket.
Most tricycles come with small baskets, but this cycle has 2.3 cubic feet to carry a large number of goods. You can also attach another basket with a handle or choose a tricycle with basket.
If you love adventures, this trike is made for you because it has double-layer tires to go off-road. You can also climb mountains, but this tricycle is ideal for unpaved tracks.
---
Viribus adult tricycle is available in two different wheel sizes, 24'' and 26''. 24-inch wheels are good for 4.9 to 5.4 feet people, and 26-inch wheels are perfect for 5.4 to 6.3 feet people. The tricycle is available in multiple colors, but the black color looks more than amazing to me.
Moreover, this tricycle has a chain cover, and front and rear fenders to guard against mud and chain oil. Furthermore, this tricycle has a normal-sized adjustable saddle. You can increase the height of the seat and handlebar. Viribus 3 wheel adult trike has a mighty 250w motor for producing high torque. It has a 10 Ah fast-charge lithium battery that takes 2 to 3 hours to charge.
Other electric tricycles are good in running, torque and comfortability, but they do not offer a lock for the battery. Now your worries are about to end because Viribus adult tricycle has a lock to secure your trike as well as the battery. Moreover, you can remove the battery or upgrade it with the passage of time. This lithium-ion battery is able to run 21.5 miles as well as you can ride it at the speed 15 mph.
This tricycle has an LCD display to indicate the speed of the tricycle, battery power, and gear. If you are tired of the short battery duration and cannot afford a heavy battery, then this tricycle is made for you. Because it offers three riding options; electric mode, assisted mode, and tricycle mode.
You do not need to pedal in electric mode, but this mode consumes more battery than other options. If you choose the assisted mode, then you can run the tricycle with pedals, and the motor will support you. In normal mode, you are required to run a tricycle with pedals.
What I Like?
Fast battery charge
Front headlight
1-year warranty
What I Didn't Like?
The paddle assist mode is not great
Why I Recommended Viribus 3 Wheel Trike
This tricycle has a versatile design and a long-lasting carbon steel frame. The glossy paint of the tricycle is strong enough to fight pollution, water, and sunlight fade effect. Now it is up to you to choose a quality product with a long service life or a low-quality tricycle to save you a bunch of bucks.
5. Addmotor Motan Trike
Specifications
Weight: 86 lbs.
Weight Capacity: 350 lbs.
Waterproof bag
22 mph speed
10 hours battery duration
Ergonomic design
Then comes my favorite fat trike adult tricycle, Addmotor Motan Electric Trike. The tricycle has a 750w brushless motor; yes, it is more than enough. The brushless motor performs better than normal motors and also resists heat.
A hot motor is not only frustrating but also heats up the frame of the trike. But Addmotor Motan tricycle can solve your problem. Furthermore, the top speed of the tricycle is more than 20 mph; this trike is powerful enough to climb a hill.
A sturdy motor needs a long-duration battery. That is why this tricycle has a 20 Ah battery. You can go to the office or travel around the town because it delivers 8 to 10 hours of battery duration.
A smart display on the handle leads you to the level of battery, gears, speed, time, and directions. Unlike other tricycle displays, you can see it in direct extreme sunlight. The tricycle has a waterproof bag behind the saddle to carry groceries or fruits. You can also transport small electric devices like laptops in the bag.
Addmotor Motan tricycle has a front headlight with long range, a back LED light, and a horn, all of these features are provided for riders safety. The saddle is made of deep cushion pads; you can adjust the direction and height of the saddle.
Most tricycles do not have suspensions, but this one has springs in the saddle to absorb all the forceful bumps, thumps, and shocks. You can also use a backrest cushioning saddle if you have back problems. The handlebar provides an upright riding position to correct your posture and 360 degree view.
Addmotor Motan tricycle has amazing features which you have never imagined before. It has a USB port for charging devices like mobile or laptops. The tricycle provides high stability and flexibility because it has 4-inch fat tires.
Moreover, this tricycle is easy to ride and provide maximum traction. The front fork has suspension to eliminate bumps and enhance balance. And when it comes to brakes, this tricycle has the finest quality disc brakes for a quick response within a few seconds.
What I Like?
Fat tires
Speed variable control
5 inch LCD display
Why I Recommended Addmotor Motan Trike
Addmotor Motan Electric Trike Adults is more than a perfect model of the tricycle. It has complicated features like an intelligent LCD display, speed variable, expensive battery, and electric motor. But you should not worry about the durability because the company offers a 2 years warranty. It is time to change the old tricycle and buy this most advanced electric tricycle.
6. Official Afreda S6 Tricycle
Specifications
Weight: 63 lbs.
Weight Capacity: 396 lbs.
Hydraulic brakes
Dual battery
Foldable
60 km battery range
Official Afreda S6 Electric Tricycle has an unrivaled design; it has two front wheels and one for the rear side. It has a double saddle so that you can give a ride to your partner.
If you doubt the power of this adult folding tricycle, then you should know that it has an aluminum frame and 20-inch wheels. Plus, it supports a 500w motor. The tricycle is able to lift 396 (180 kg). The tricycle has a 15.6 Ah dual battery with a 60 km range. These batteries are fully charged within 4 hours, plus you can charge the battery separately.
The feature I love about this tricycle is balance and stability. It seems like this trike will be unable to maintain balance, but as a matter of fact, this adult tricycle is more stable than others. The front wheels have suspension to absorb thumps and bumps; additionally, the tricycle provides the same performance on different terrain. You can use the tricycle to travel around the town or go on off-road trips. This tricycle has rigid tires to run on unpaved tracks.
You can see significant information like speed, gears, battery, mode, and direction on the wide LCD display. Moreover, you can start the tricycle by tapping on a button located near the handle. The handles have an ergonomic design, and it also has hydraulic brakes for stopping the tricycle as soon as possible. Afreda S6 tricycle has a comfortable saddle with height customization quality. There is also a kid saddle and footrests for front and back riders.
The tricycle has two modes; free riding and self-balancing mode. Professional riders use first riding mode because, in this riding option, you unlock the locked suspensions. They move independently and enhance the balance of the trike. On the other hand, the tricycle maintains balance by locking the suspensions. It is safer for children and elderly riders.
What I Like?
High load capacity
3 saddles
Durable paint
Why I Recommended Afreda S6 Tricycle
I included the Official Afreda S6 Electric Tricycle on my 8 best adult tricycles because of its unique design and long-duration battery. There are countless benefits to purchasing this tricycle. First, it offers 3 saddles, second, it is made of strong aluminum, and lastly, it possesses shocks to absorb bumps.
7. Addmotor M330 Motan Tricycle for Adults
Specifications
Weight: 88 lbs.
Weight Capacity: 350 lbs.
Foldable handlebar
Double basket
USB Charging port
5 inch LCD display
The second last adult tricycle is Addmotor Motan M330 Electric Tricycle. This tricycle has fat tires, but the frame is not too lengthy. The purpose of using fat tires is to improve the trike's balance and disturb the pressure on other parts of the tricycle.
Anyhow, this tricycle has an upright handlebar with a throttle gear shift. You can choose from 1 to 7 gears, but I like the 5th gear because it provides maximum speed without wasting energy. It has dual baskets to carry groceries or pets.
If you are tired of riding slow tricycles then this trike is made for you. It has a powerful motor 750w that produces 80 nm torque. In simple words, this tricycle can lift more than 300 lbs. Additionally, it has a 12 mph minimum and 22 mph top speed. The fat tires allow you to use the tricycle on beaten and unpaved roads. It has a 20 Ah battery with 8 to 10 battery duration plus, you can charge it within 2 to 3 hours approximately.
Addmotor M330 adult tricycle has three modes; fully electric, assisted, and manual. In fully electric mode, the tricycle covers 60 miles without pedaling. The fully electric mode consumes more battery power than other modes. You can cover 85 miles in assisted mode, but you need to run the tricycle with pedals. The manual or normal mode needs no battery energy; speed and mileage depends on the rider's stamina. You can change the mode by just tapping on a button. The tricycle has a smart controller and display.
You can check the maximum speed of the tricycle on the 5-inch LCD display. The display is bright enough to show you the information in direct sunlight. It updates you about the details regarding gears, speed, battery, and environment. The front light shows you direction in the darkness, and the taillight saves you from accidents. It has a foldable handlebar; you can transport the tricycle by opening and folding all parts of the tricycle.
What I Like?
Bright LCD display
Portable head tube
Aluminum paddle
Why I Recommended Addmotor Motan M330 Tricycle
Addmotor Motan M330 Electric Tricycle For Adults has a list of features. Its unsung features include LED lights in tires, fat wheels, front and back fenders, backrest saddles, or brushless motors. Buy this product before all are sold.
8. 3SCORE Fat Trike for Adults
Specifications
Weight: 99 lbs.
Weight Capacity: 350 lbs.
Top speed 30 mph
Colorful display
Decent look
Front Suspension
My last recommendation is 3 Score Electric Fat Trike, the fastest electric tricycle on my list. This battery-powered trike has a 30-mile-per-hour speed. It is possible because of the powerful motor. The trike has a 750W brushless motor.
This motor is perfect for controlling the heat of the engine. The trike has a 17 Ah rechargeable battery that provides 6 to 8 hours of battery duration.
Now you can get all the tiny information about the 3SCORE Fat Trike. Unlike other tricycles, this one has a color display. The smart small display shows time, miles, battery level, riding option, gear, and so many other variables. You can use the display with the help of buttons on the handlebar. The tricycle has dual baskets for transporting the maximum amount of luggage. You can carry your pets in the front basket and other goods in the rear box.
Nobody wants to lose his valuable belongings. That is why the 3score adult tricycle manufacturer's installed a lock on the trike. You can leave your tricycle without worrying about safety. Moreover, it has signal lights to turn left and right. This wonderful tricycle has a simple and decent look as well as a long-lasting product. Whether you are tall or short, you can use the tricycle because it has a saddle adjustability feature.
3score adult tricycle has the most advanced disc brakes and front suspensions for absorbing bumps and thumps and protecting you from misadventures. You can fold the tricycle and put it in your car for a road trip.
Plus, you can ride the trike on rough and unpaved roads. The tricycle also has side-view mirrors to show you what is coming from your back. There is also a phone holder to keep your cell phone safe on the rack while you are riding.
What I Like?
4 inch wide tires
Bigger rear basket
8 hours battery life
Why I Recommended 3SCORE Fat Trike
The tricycle offers 5 PSI levers, you are required to apply force with a paddle for the initial level, but at the 5th level, the tricycle runs on battery. This is the first trike with side mirrors and signal lights. Using both side mirrors and signals is not mandatory, but we care for you. The purpose is not to change your previous trike or sell the product but to ensure your safety. Your safety is in your hands; choose it or lose it.
Buyer's Guide To Choose Right Adult Tricycle
Purchasing a tricycle is not hard, but there are so many pseudo brands selling their useless products. The purpose of this guide is to prevent you from wasting your money and investing it in a long-lasting product.
In this guide, I will tell you the important features and considerations regarding tricycles.
Height Of The Trike
If you are purchasing a tricycle online, you must check its height. These items look suitable in pictures, but you will complain about the wrong delivery when they come to your door with the trike. The tricycles have three sizes; 20-inch tires for 4.2 to 4.8 feet for people, 24-inch tires are 4.8 to 5.3 feet for people, and 26-inch tires are 5.4 to 6.2 feet for people. Do not tap the payment button until you confirm the size of the product and your height. Electric tricycles are available in 20'' and 24'' tire sizes.
Handlebar And Saddle Height Adjustability
Do not compromise on the height of the saddle and handlebar. Saddle height adjustability allows you to increase and decrease the height of the saddle according to your size. It also helps when you are sharing the tricycle with your friend. Handlebars should also have an adjustability feature to customize the height of the handlebar according to your shoulders. Otherwise, you can suffer from shoulder problems.
Front And Rear Fenders
Fenders keep you safe from mud, dust, and water. They are not only for you but also for the tricycle because they stop water and mud from falling on the frame of the trike. If you buy a tricycle without mudguards or fenders, then you can face rust problems or paint wrinkling on the tricycle. Rust weakens the frame and can destroy your tricycle material.
Rear Basket
I force people to buy a tricycle with a large basket because it is a very useful quality. You can carry your pets with you or books in the basket. You also can put the purchased vegetables or fruits in a basket instead of holding all of them. A trike without a basket seems incomplete. You should also attach another basket with a front handlebar.
Head And Tail Lights
A light can save you from a massive catastrophe. Headlights are the fundamental feature of a tricycle. It will help you reach home in the darkness and keep you safe from other vehicles. A backlight is used for brakes, indicating your presence to the rider behind you. Both head and backlights are an essential part of your safety.
Long Duration Battery
Do not compromise on the battery duration when it comes to electric tricycles. A long-duration battery helps you to run longer than usual. Choose a tricycle with more than 10 Ah battery and.
Plus, focus on the type of battery. Always purchase a 3 hours battery duration, removable and rechargeable battery tricycle. You can upgrade it with the passage of time, and you can also remove it after reaching your destination.
Speed and Motor of a Tricycle
The motor and speed of the trike go hand in hand. If the motor is powerful enough, it will allow the wheels to run fast. But a weak motor neither produces sufficient torque nor offers a fast speed. Do not buy a tricycle with less than 15 miles per hour speed.
Strong motor not only plays a significant role in speed but also helps the tricycle to climb hills. Moreover, the robust motor will carry the weight of the basket. A maximum speed of a trike is about 30 to 35 mph, but such tricycles are super expensive.
Tricycle Shocks and Brakes
There are two to three kinds of brakes; hydraulic, disc, and parking brakes. Hydraulic brakes perform better than others, but these brakes require maintenance, and they are expensive. Hydraulic brakes are not commonly used in tricycles. But disc and parking brakes are mostly installed in trikes. These brakes are simple to replace and require maintenance.
Most tricycles have only front suspensions. First, it is hard to install the back suspensions, and second, it is useless to install the back suspensions in tricycles. But you must check the front suspensions because trikes are hard to manage on rough, beaten roads. If the trike has a quality suspension, it will absorb all the bumps and thumps. So, you must buy a tricycle with front suspensions.
Tricycle Smart Display
Another major feature people do not know about is the smart display. You can observe the battery levels, speed of the tricycle, maximum speed or required speed, directions, time, and gears if your e-trike supports the smart display. Otherwise, your tricycle's motor will turn off without informing you about the low battery issue.
Riding Options and 7 Speeds
If you do not know about the 7 speeds it means the 7 number of gears. A tricycle must have different speed options, like 3 or 5, or 7 speeds. You can use the tricycle for training by adjusting it on speed 1, or you can reach your destination as soon as possible by running at speed 7. Riding options are also significant because this way, you can lower battery consumption. Electric trikes offer 3 to 5 modes from fully electric, assisted, and normal mode.
FAQs about Adult Trikes
What is the weight limit for adult tricycle?
There are trikes from 250 lbs. to 350 lbs. load capacity. It depends on the brand, but you can purchase heavyweight-capacity tricycles. The heavy-duty trikes have fat tires, a powerful motor, and a sturdy frame.
What are the disadvantages of a tricycle?
Trikes have a wider wheel range which is hard to adjust in a lane while riding on the road. Moreover, tricycle riders also face difficulty in running the trike on beaten roads because it does not possess rear wheel shocks.
Concluding Adult Trikes Review
Tricycles are better than bicycles because they can lift more load, and you can manage a three-wheel cycle effortlessly compared to a two-wheel bike. They also offer baskets to carry the pet, goods, or books with you. Although these cycles are slower and heavier than bicycles, they also deliver maximum safety. You can use the tricycle for an off-road trip or climbing hills. They are more durable than bicycles because they are made for lifting heavy weights.
Tricycles are not used for complex cycling tricks like flipping or popping, but they provide 10 to 15 years of service life. Plus, these trikes contain heavy motors of 750w maximum. Both bicycles and tricycles are used for different purposes but if you are facing difficulty in choosing the best tricycle, then here are my two favorite items.
Schwinn Meridian Adult Tricycle made of strong material, cushioning saddle, adjustable handlebar, and easy to manage.
Addmotor Motan Electric Trike is my favorite because of its long-duration battery life, easy assembly, robust brakes, and matchless design.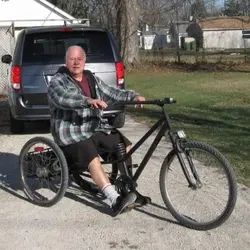 Hi, My name is Ruth Winder, founder of Tricycle Hub. I am a salesman by profession and cycling enthusiast by passion. I have been riding trikes for more than 5 years. On TricycleHub, I share everything related to tricycles and other gadgets I use for daily commuting and other outdoor activities on tricycles.
Learn About Me to know how and why I switched from bicycling to tricycling.