We all know that living in urban settings can open up many opportunities for individuals but it comes with a cost. At times, urban lifestyles can be challenging due to noise, pollution, and traffic congestion.
With the continuous rise in petrol prices and growing concerns about the need for greener and sustainable transportation, many city dwellers have shifted from conventional gas-powered vehicles to electric bikes and trikes. The electric trikes for adults is the ultimate solution to a variety of transportation needs in urban areas.
By providing a more efficient and comfortable means of traveling from one point to the other, the fat tire electric trike from Addmotor has been a top choice among riders. The Addmotor Grandtan electric trike is one of the most in-demand models for adults looking for a reliable and eco-friendly mode of transportation.
Addmotor Grandtan Fat Tire Electric Trike – Detailed Review
With a lightweight aluminum frame, a powerful motor, and a comfortable seat, the Grandtan e-trike is designed to be user-friendly and suitable for different types of riders. It doesn't matter whether you're a daily commuter or an adventure enthusiast, the Addmotor Grandtan won't let you down in any aspect.
Therefore, despite the increase in the number of electric 3 wheeled bike models available in the market, the Addmotor M-340 electric trike stands tall as a suitable choice for buyers even in 2023. Let's take a closer look at its features to understand what makes it so special.
Is Addmotor Grandtan M-340 Electric Trike Worth Buying?
Over the years, reliability and exciting features have been the hallmarks of Addmotor electric tricycles and the Grandtan is no exception. The fat tire electric trike is a complete package that provides you with everything that you can expect from an electric trike.
From an efficient battery pack to exceptional cargo capacity, the Grandtan is a perfect choice for anyone looking for a reliable and feature-packed electric trike. It's a must-have for anyone looking for a safe and convenient way to get around.
Addmotor Grandtan Fat Tire Trike Features Review
In this comprehensive review, we will delve into the remarkable features that make the Addmotor Grandtan Fat Tire Trike a standout choice in the world of electric tricycles, exploring its design, capabilities, and how it can transform your riding adventures.
Let's embark on this journey to discover why the Grandtan is capturing the attention of trike riders worldwide.
1. Frame Design
The Grandtan features a low step-through frame design that complements its aesthetics and versatility. The step-through frame makes it ideal for elders and people with mobility issues as mounting and dismounting this intuitive option will be a breeze.
To further enhance the convenience, this trike from Addmotor also has a wooden footrest in the middle of the frame that allows the riders to rest their feet, in case of throttle mode.
The saddle on the Grandtan is an exclusive padded saddle with a backrest that can be adjusted according to the rider's sitting posture and height. The sweep black aluminum handlebars are also adjustable which makes the Grandtan an ergonomically well-built electric trike.
2. Color Choices
The frame design is quite minimal yet aesthetically pleasing and is available in eight different colors including Neptune Blue, Cyan Green, Army Rose, Rose Gold, Pearl White, Red, Yellow, and Starry Blue. Among these colors, Army Green has been the fan favorite as it gives the Grandtan a classy and elegant look.
3. Build Quality of AddMotor Grandtan Trike
The Addmotor Grandtan is designed to be the perfect companion for outdoor adventures so it comes with sturdy build quality. Whether you assess the frame or the rear cargo basket, the build quality of every component is quite good and provides a premium feel to this trike.
All the components are built to last and give the Addmotor Grandtan full marks in terms of durability and reliability. With this purchase, you can guarantee that your trike will last for years to come.
4. AddMotor Grandtan Powerful Electric Motor
The Addmotor Grandtan is equipped with a powerful 750W front-mounted motor that is a complete powerhouse for different types of rides. It has the capability of providing up to 80Nm of torque and 20 mph top speed.
Whether you need to reach work on time, accelerate swiftly through traffic jams, or climb uphill, this robust Bafang motor provides the needed assistance to make your ride a breeze. The hub motor is mounted on the front wheel which makes the Grandtan more stable and helps to maintain a better-balanced state with fast acceleration.
So, whether you're navigating busy city streets, conquering challenging terrains, or simply enjoying a leisurely ride, the motor ensures that the Grandtan remains a reliable and efficient companion throughout your journey.
5. Pedal Assist and Throttle
The Addmotor Grandtan offers two modes of operation for the motor: Pedal Assist and Throttle Mode. These modes empower riders with a range of options to tailor their riding experience precisely to their preferences.
Moreover, Addmotor Grandtan allows riders to choose from 7 levels of assistance, typically ranging from low to high. The wide range of levels enables you to conserve battery power when you want to pedal more or get a boost when you need it most, such as during steep climbs or when carrying heavy loads.
Also, the pedal assist mode will also help to promote physical activity as you can decide how much or as little power assistance you need from the motor.
On the other hand, throttle mode provides direct control over the electric motor with a simple twist of the throttle. Throttle Mode is perfect for accelerating quickly, navigating through traffic, or effortlessly gliding down a straight road. It's particularly handy when you need an extra burst of speed or when you want to enjoy a leisurely ride without continuous pedaling.
6. Battery & Range of Addmotor Grandtan E-Trike
The task to power this Bafang motor is on the 48V*20Ah Samsung cell battery pack. The battery pack is probably one of the standout points of Grandtan as its endurance and performance is truly completely unmatched.
The 20Ah rating of the Samsung Cell Battery is a testament to its impressive energy storage capabilities. This high-capacity battery ensures that the Grandtan can cover a significant distance of 85+ miles on a single charge in PAS 1 mode.
Moreover, the range of this fat tire electric trike can vary depending on the type of terrain you're riding on or the weight you're hauling. Moreover, riding in high pedal assist modes will also drain more battery.
7. Addmotor Grandtan E-Trike Cargo Capacity
Electric trikes are usually strong and sturdy enough to haul more cargo than two-wheel electric bikes, but the cargo-carrying capacity of the Grandtan is simply outstanding. Thanks to the strong and well-built step-thru frame and powerful motor, the Grandtan electric trike has a 350+100 lbs load capacity for the rider and cargo.
The 3 wheel fat tire bike comes with a spacious rear basket and front rack which are removable and made of aluminum to provide reliable performance. Therefore, the Grandtan Plus is the ideal partner for grocery shopping, picnics, and riding with pets or kids.
8. Addmotor Grandtan Fat Tires and Suspension
As the name suggests, the Grandtan is a fat tire electric trike that comes with oversized tires to provide unparalleled stability and comfort. With 4″ fat tires, the Grandtan can roll over anything that comes in its way.
Addmotor Grandtan tires make the E trike suitable for snow, grass, hills, and neighborhoods. The fat tires also contribute the traction and control as they increase the area of contact between the tire and the surface which provides a smoother riding experience.
On the other hand, the front oil spring fork also allows for a smooth ride as it effectively absorbs bumps and makes your ride more comfortable even on uneven terrains. With this feature, you can ride on different surfaces with the same solid grip.
9. Brakes of Addmotor Grandtan Trike
Safety is one of the most important considerations while riding any sort of electric bike or trike and the Grandtan comes fully loaded. The Tektro Mechanical disc brakes are equipped with a motor cutoff sensor that provides responsive stopping power and strength.
The automatic cutoff sensor allows you to slow down or quickly stop and adds to the overall smoothness of your ride. All three wheels have 180mm brake rotors to provide enough braking power for any terrain.
10. 5-inch Screen Display
The 5-inch intuitive LCD display on the handlebar is another plus feature of this fat tire electric trike. With this display, you can monitor plenty of insights into the Grandtan with a single glance. The display includes an odometer, battery level indicator, speedometer, PAS level control, and safety light indicators.
Having this display makes it easier for the rider to stay in control of the vehicle and be aware of the safety indicators. In addition, the LCD display also features a USB port to charge your mobile devices.
11. Lighting System of Addmotor Grandtan E-Trike
The Adddmotor Grandtan has an integrated EB 2.0 lighting system that includes head and tail lights powered by the main battery pack to ensure your safety while driving at night.
Moreover, the multi-functional tail light also delivers driving, danger, flash, and left or right turning signals that allow you to effectively communicate with other drivers on the road.
Concluding Addmotor Grandtan E-Trike Review
In conclusion, the Addmotor Grandtan is a remarkable electric trike that embodies the essence of modern mobility. With its powerful Bafang 750W front-mounted hub motor, high-capacity Samsung Cell Battery, and versatile Pedal Assist and Throttle Modes, it offers an unrivaled riding experience.
Whether you're navigating urban streets, tackling rugged terrains, or simply enjoying the open road, the Grandtan's blend of power, endurance, and user-friendly features makes it a compelling choice.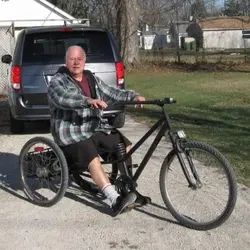 Hi, My name is Ruth Winder, founder of Tricycle Hub. I am a salesman by profession and cycling enthusiast by passion. I have been riding trikes for more than 5 years. On TricycleHub, I share everything related to tricycles and other gadgets I use for daily commuting and other outdoor activities on tricycles.
Learn About Me to know how and why I switched from bicycling to tricycling.